Low cost, breadth of product and technology innovation consistently drive our progress at IB, and continue to provide unique advantages to our customers. We've highlighted several of our recent developments below, and invite you to visit us at

interactivebrokers.com

to learn more.

Option Strategy Lab
The first in a set of self-contained tools which optimize the design, analysis, and management of option strategies.
The Option Strategy Lab takes your price or volatility forecast for any US or global equity, and presents both simple and complex option strategies tailored to that forecast.
Integrated performance tables and graphs enable you to quickly and efficiently compare, analyze, and modify these strategies.
Finally, an embedded order entry facility enables you to submit your order directly from the Lab.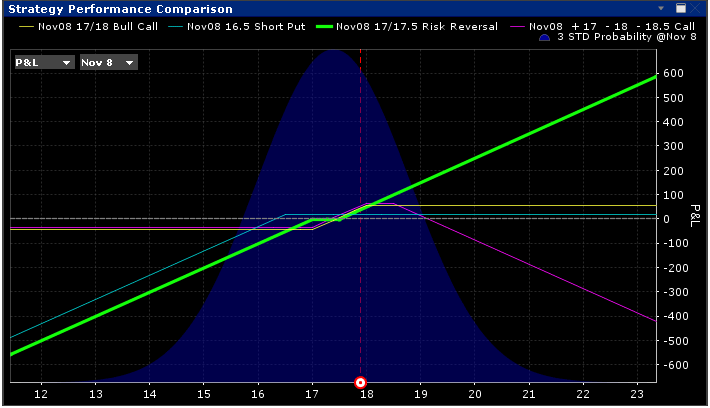 Launch the Option Strategy Lab from the Mosaic's "New Window" button, or the TWS "Trading Tools" menu.

IB Traders' Insight: Global Market Insights by Traders for Traders
IB is pleased to introduce the IB Traders' Insight, your new destination for market information. The Traders' Insight is a key resource for market participants seeking timely commentary directly from industry professionals on the front lines of today's fast-moving markets. It connects you with Interactive Brokers Group traders around the world, including our equity risk manager, fixed income trader, head of FX trading, equity options analyst and the Asia Trade Desk, who share their observations and insights on the markets throughout the trading day.

Expansion plans for the IB Traders' Insight include making it accessible directly through TWS and the social media outlets, posting contributions from our exchange partners around the globe to broaden our range of topics and content, and offering a downloadable mobile app to keep you connected while you're on the go.
Visit the IB Traders' Insight by
clicking here

, or navigate to it directly from the Education menu on our web site.

IB Outperforms the Industry in Stock and Option Execution
Quality and Percent of Profitable Forex Accounts
IB executions continue to outperform the industry. Based on independent measurements, the Transaction Auditing Group, Inc., (TAG), a third-party provider of transaction analysis, has determined that Interactive Brokers US stock and options price executions and European stock price executions continued to be significantly better than the industry during the first half of 2013*.
IB Price Advantage, better than the Industry by:
US Stocks


(per 100 shares)

$0.20
US Options


(per contract)

$0.21
European Stocks


(per 100 shares)

€1.31
Additionally, Interactive Brokers Group, Inc. (NASDAQ GS: IBKR) has once again been ranked as the leading Forex broker by percentage of profitable customer Forex accounts, according to a composite Forex Broker Comparison produced by the website Forex Magnates. The comparison comprises data from 10 of the largest forex broker performance reports as submitted individually to the regulator, the National Futures Association (NFA), for the second quarter of 2013. The comparison can be found by
clicking here

.
There is a substantial risk of loss in foreign exchange trading. Past performance is not necessarily indicative of future results.

Account Management
By now, you have probably noticed our new and improved Account Management, which has been completely redesigned with a new look and feel, a new menu system, and integrated pages from IB's website, including reference and support pages. Our Account Management features many improvements, including:
A completely new menu system, better organized for easy navigation.
Account performance summaries available immediately upon signing in.
Breaking news and features available on the home page.
An upgraded User Access Rights system for institutions, which lets you match your IB account access to the controls that you've set up in your own organization.
Easily accessible dynamic help available from every screen.
Expanded eligibility for account linking functions now includes individuals with multiple accounts, IB-UKL accounts and will include Advisors and Brokers in the future.
In addition, we've added a number of new functions to Account Management, including new account settings and account types. You can read more about all of our recent Account Management updates in the
release notes


IB EmployeeTrack Compliance Reporting
Interactive Brokers' EmployeeTrack℠ provides a free, fully electronic, simple and cost-effective solution for organizations such as exchanges, hedge funds, mutual funds, brokers, banks, and insurance companies, who are required to review their employees' outside brokerage account activity.
Over the past year, updates to EmployeeTrack include two new searches in addition to the Search by Symbol:
Search By Volume
Compliance Officers can search all employee accounts for those that have activity volume over a specified value and view a report of the results. Results also include performance in Net Asset Value (NAV) for each account, and can be viewed as a web page or saved as a PDF file.
Search by Performance
Compliance Officers can search all employee accounts for those with performance greater than or less than a specified Net Asset Value (NAV) percentage and view a report of the results. Performance changes do not include deposits or withdrawals.

Technology Updates
Efforts over the past year have resulted in many enhancements to our trading technology. The list below highlights some of our biggest changes. Please visit the Documentation section of IB's
Traders' University

for a comprehensive list of all technology release updates.
TWS
TWS Releases
We are continually updating TWS to include new features and fixes, but realize that some of our customers are happy with their current version and prefer to upgrade less often. To accommodate all of our customers, we've changed our release process to provide three versions of TWS: Trader Workstation Latest which was most recently promoted from beta and includes new features; Trader Workstation which is the most stable version of TWS and does not include the newest features; and Trader Workstation Beta (when available) which always includes the latest updates and features and is subject to daily changes.
Post IPO Support
We enhanced trading of IPOs in the secondary market.

Showing upcoming IPO dates in the First Trade Date field.
Allowing users to search/scan by IPO in the Market Scanner.
Accepting and holding market orders in preparation for post-IPO trading.

Risk Navigator


Addition of the Risk Dashboard, which displays real-time account-critical information including the Net Liquidation Value, total P&L, current Maintenance and Initial margin, VAR and Expected Shortfall (ES) and pins to the top of the Risk Nav interface.
The Risk Navigator boasts a new report, Margin Sensitivity, which shows the margin impact to your portfolio of a specific increase and decrease in your positions.

Research and Market Data
Updates include the addition of several new data and research providers, along with more visible and efficient display of existing feeds in conjunction with the Mosaic redesign. Many of these are available in the Mosaic Market Scanners:

We now distribute closing prices shortly after they are published, instead of overnight.
We added a source of data for insider/institutional holdings, short sale info.
We added analyst ratings/upgrades/downgrades.
We reworked Time and Sales, and can display trades that are done as part of combo, reported late, etc.
We have enhanced our dividend information by importing predictions from outside vendors.
We show auction imbalance information.

Mosaic
The completely redesigned Mosaic offers many new features and functions including:

The ability to attach bracket, hedge and other advanced order types as well as check margin before submitting the order.
The redesigned Order Entry panel has more intuitive bid/ask order buttons, and shows the current position along with the bid/ask prices. The advanced order panel supports attached, hedge and OCO orders from within Mosaic.
The new Mosaic Market Scanner for options, Complex Orders and Trades, allows users to find all option combinations that have trading volume or a current quote and to sort by volume and other criteria.
A font sizing button has been added to quickly increase or decrease font size proportionately across all TWS and Mosaic windows.
The News, Monitor and Activity panels now used tabbed pages.
Rearranged layout and the addition of tabbed pages help Mosaic use less screen real estate.
The Mosaic Window Groups feature lets you create your own custom Mosaic workspace.
mobileTWS
Early in the year we introduced
mobileTWS for the Android tablet

and have been updating mobileTWS for the Android phone, iPhone and iPad. The latest updates include:
Translation
mobileTWS has been translated into eight languages.
SSL security
A new SSL checkbox on the login screen lets you add an extra layer of security.
Portfolio and Contract News
News headlines based on the contracts in your portfolio, and related to the ticker you're looking at (the active contract).
Market Scanners
Predefined scanners including USActive and USgainers.
Trading on the NSE
Customers who have opened their accounts through Interactive Brokers (India) Pvt. Ltd. can now trade stocks, options, futures, currency futures and options on the NSE. Note that only India residents can trade stocks, currency futures and currency options. Both India residents and non-resident Indians (NRIs) can trade options and futures.
Watchlist Cloud Sharing
Share tickers between TWS and mobileTWS through the Cloud.
Mobile Trading Assistant
Get notified via email or text when user-specified market, account, positions and order execution thresholds are crossed.
Full-Screen Charts, Chart Indicators and Thumbnails

Option Chains and Combo Builder
API
Open Source API
Our API (Java and Excel) is now hosted on GitHub as open source, allowing you to implement bug fixes and performance enhancements that can be incorporated into our distributable code.
New Java API Sample Application
There is a new and improved Java API Sample Application available with API Version 9.69. The Java sample application has been completely rewritten and features many usability enhancements, including a tabbed interface with dedicated tabs for Market Data, Trading, Account Info, Options, Combos, Contract Info and Advisors.
Support for Mini Options
Support for mini options has been added to the APIs. You now can identify such products by providing the multiplier or trading class in both requests to TWS and responses from TWS.
New Methods for Advisors
New methods and their associated events have been added to the ActiveX, Java, and C++ APIs to allow advisors to request data from the Account Window Summary tab and to request positions for all accounts.
TWS API - Advanced Q&A Webinar
If you're using IB's TWS API to create your own custom trading application, then this Special Event is for you! Get your TWS API for DDE for Excel, ActiveX, Java and C++ API questions answered by IB's Senior API Developers. Access Interactive Brokers on Google+ and submit your API-related questions prior to the event.
We now support two-sided "manual" scale orders, where the user specifies quantities and price levels manually. This feature could be useful in setting up an order that delta-hedges a position.

New Products and Pricing
Over the past year we've added several new products, currencies, order types and exchanges:


Commissions/Minimums
FX commissions:

New tier (for over USD 5,000,000,000): 0.08 basis point 1 * Trade Value 2 with minimum of USD 1.00 or equivalent
Reduced minimum per order for all tiers

Order minimums reduced on Hong Kong Warrants and Structured Products
Significantly reduced cancel fees on US Options
New Currencies
Base Currencies
DKK - Danish Krone
NOK - Norwegian Krone
SGD - Singapore Dollar
Funding Currencies
New No Load Mutual Fund Families
Forward Mutual Funds
Franklin Templeton Investments
Arin
Exchanges
New GEMINI Options Exchange
Extended hours on HKFE
The addition of cancel/modify fees for stock orders routed direct to TradeGate German stock exchange
Execution and clearing of European corporate and sovereign bonds on Euronext
Order Types and Routing
Support for Retail Price Improvement (RPI) Orders on NASDAQ.
We added several features to our Smart combo routing including:

We utilize native combos on all exchanges
We support non-guaranteed smart combos for Advisors

Funari Orders - For stocks directed to the Tokyo Stock Exchange (TSEJ). The Funari order submits the order quantity as a limit order at the user-specified limit price, and then resubmits any unfilled order quantity as a market-on-close order at the end of the morning and afternoon trading sessions.
Snap To Orders - These order types are similar to the "pegged" order types except that the price does not move with the market; instead it's calculated with the optional offset and submitted as a limit order.

Snap to Market - snaps to the ask MINUS the offset (buy order).
Snap to Midpoint - snaps to the midpoint of the bid/ask MINUS the offset (buy order).
Snap to Primary - snaps to the bid PLUS the offset (buy order).
New Products
Futures
USD/CNH FX and e-micro futures on Globex
Coal futures on IPE
Australian grain futures
Interest Rate Swap Futures on ECBOT (10-Year Deliverable Interest Rate Swap Futures & 5-Year Deliverable Interest Rate Swap Futures)
1,000 oz. Silver Futures on NYMEX
Hard Red Winter Wheat - KCBOT
CES China 120 Index Futures on HKFE
Options
Mini options now available for SPY, AAPL, GLD, GOOG and AMZN on:

Amex
BATS
BOX
CBOE
CBOE2
GEMINI
ISE Options
MIAX
NASDAQOM
NYSE Arca
PHLX

Jumbo SPY on BOX (Jumbo SPY represents 1,000 shares of the SPDR® S&P 500® exchange-traded fund ("SPY") instead of the standard 100 shares)
Bonds/Treasuries
European bonds
TIPS
SEHK Bonds
CFDs
Additional order types/attributes supported for CFDs including: RTH (regular trading hours), LOC (Limit on Close), MOC (Market on Close), LOO (Limit on Open), MOO (Market on Open)
The addition of Scandinavian IBCFDs for Sweden, Finland and Denmark
To keep up-to-date on all of our recent product and exchange offerings, visit the
New Products

page on the IB web site.

The Marketplace@IB

The Marketplace@IB now includes a new section called Analyst Research. This section provides third-party institutional-caliber research subscriptions that display directly in TWS.

We have recently added the following software tools to the Marketplace@IB:

OneOption Trading Platform (provider is OneOption, LLC)
TableTrader (provider is TableTrader)
Rizm (provider is EquaMetrics Inc.)
tradelink.org (provider is Pracplay)
C2 Order Entry (provider is TradeBridge Systems)
QuantComponents (provider is QuantComponents)
Market Prophit (provider is Market Prophit LLC)
NitensLux Automata Suite (provider is Nitens Lux)
Personal Investment Fund Trader (provider is Personal Investment Fund )

Visit

The Marketplace@IB

to check out all of our third-party software, programming and education offerings.
If you do not wish to continue to receive the Communiqué
click here
.
Any trading symbols displayed are for illustrative purposes only and are not intended to portray recommendations. Supporting documentation for any claims and statistical information will be provided upon request. Options involve risk and are not suitable for all investors. For more information read the "Characteristics and Risks of Standardized Options". For a copy visit
Interactivebrokers.com/disclosures
or call 203-618-5800.
[1] 1 basis point=0.0001.

[2] Commissions for forex trades are calculated off the trade value and then converted and charged to the base currency of the account.
No offer or solicitation to buy or sell securities or investment products of any kind, and no recommendation or advice is made, given or in any manner endorsed by Interactive Brokers LLC ("Interactive Brokers") or any of its affiliates.