Low cost, breadth of product, and technology innovation consistently drive our progress at IB,

and once again, we've been recognized for the unique advantages we provide to our customers.

For the third straight year we have been awarded top honors
by Barron's Magazine as the Best Online Broker of 2014.

We've highlighted several of our most recent developments below,

and invite you to visit us at

interactivebrokers.com

to learn more.

IEX Trading Access
Interactive Brokers (IB) now includes IEX in our SmartRouting algorithm, and also allows customers to route orders directly to IEX.
IB SmartRouting searches for the best firm stock, option and combination prices available at the time of the order, and seeks to immediately execute the order electronically. For eight years running
1
, IB executions have outperformed the industry. Based on independent measurements, the Transaction Auditing Group, Inc., (TAG), a third-party provider of transaction analysis, has once again determined that Interactive Brokers US stock and options price executions continued to be significantly better than the industry during the second half of 2013.
IB Price Advantage, better than the Industry by:
US Stocks


(per 100 shares)

$0.23
US Options


(per contract)

$0.20

Waived Activity Fee
We no longer charge a monthly activity fee to any customer with a net liquidation value greater than or equal to USD 100,000 (or non-USD equivalent).

Volatility Lab
The Volatility Lab is the third tool in our suite of options labs, which also includes the Option Strategy Lab and the Probability Lab. The Volatility Lab is a useful trader dashboard that provides a snapshot of past and future readings for volatility on a stock, its industry peers and some measure of the broad market. The Volatility Lab is laid out in three tabs indicated at the lower left corner of the screen to include snapshots for Implied Volatility, Historical Volatility and an Industry Comparison.
For more information on using the
Volatility Lab

see the TWS Users' Guide.

MultiCharts Advanced Charting
MultiCharts.net advanced charting is now integrated into TWS as a complement/upgrade to our existing interactive charts. The tool is free of charge to IB customers and includes:
Advanced charting
Drawing tools and a large library of more than 300 indicators
User-programmable technical indicators
Strategy backtesting
User-programmable trading strategy signals
We also offer a more advanced, subscription-based version of MultiCharts, MultiCharts PowerLanguage, for customers who are not programmers but who require the ability to program complex custom technical indicators.
For more information, see the
MultiCharts

section of the TWS Users' Guide.

Mutual Fund Replicator
The Mutual Fund Replicator
2
searches and displays ETFs whose performance is comparable to that of a user-specified mutual fund. To help you easily see when management fees for ETFs are lower than those for mutual funds, the fee difference is highlighted. The Performance Analysis and Return Comparison panels display performance correlation characteristics including the deviation, and a comparison of management fees.
For more information on using the
Mutual Fund Replicator

see the TWS Users' Guide.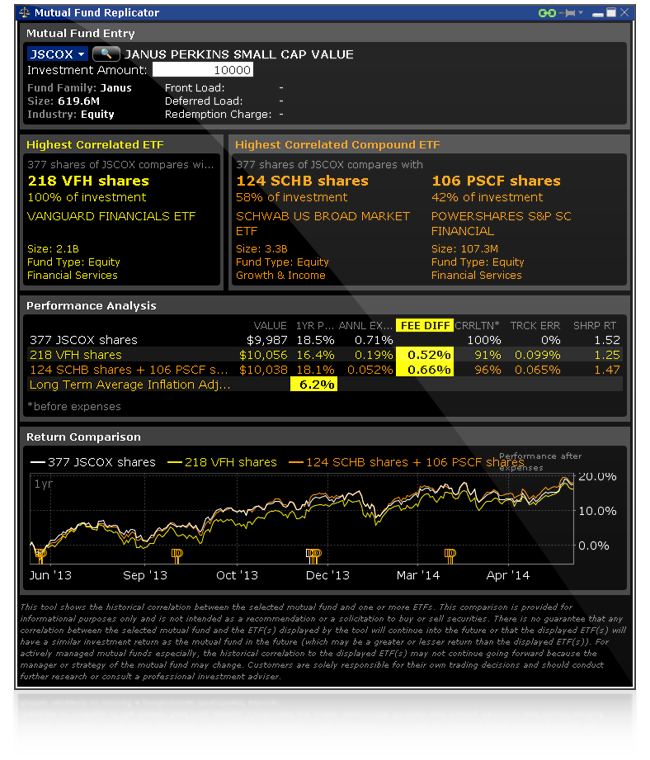 Option Exercise
Our new Option Exercise window now displays short positions for your convenience, and includes an Optimal Action field that displays notification when the values of any of your long US options positions would be maximized by exercising prior to a dividend. In addition to seeing this information in the Optimal Action field, you will also receive email notification via the IB FYI functionality, two days before the stock trades ex-dividend. Please note that unlike some other brokers, IB does not charge for exercising options.
For more details on the new window, see the
TWS Users' Guide

.

Securities Financing
IRA accounts can now enroll in the Stock Yield Enhancement Program, which allows IB to borrow shares from you in exchange for cash collateral, and then lend the shares into the securities lending market, generating a return on loaned security for IB customers.

Shortable Shares and Fee Rates
We now include our stock loan data, including Shortable Shares and Fee Rates, in several places in TWS, including the Mosaic Order Entry panel. You can also display detailed short statistics via a variety of fields in the Watchlist and other market data windows.
The new SLB Rates window provides charted daily rate history and intraday time & sales of stock loan fees.

IB Traders' Insight: Global Market Insights by Traders for Traders
Last year we introduced IB Traders' Insight, a key resource for market participants seeking timely commentary directly from industry professionals on the front lines of today's fast-moving markets. Our most recent contributors include the Chief Economist at the CME Group, the Founder of fxtraderprofessional.com, the CEO of Market Prophit, and Waverly Advisors, LLC. We would like to invite our research clients to contribute with their comments and observations on the global markets. To become a Traders' Insight contributor, complete a Vendor Application for the third-party Analyst Research Program through the
Marketplace@IB

.
Visit IB Traders' Insight by
clicking here

or navigate to it directly from the Education menu on our web site. View Traders' Insight articles in TWS under the source code 'TI' and follow us on Twitter @IBKR for alerts on the latest posts.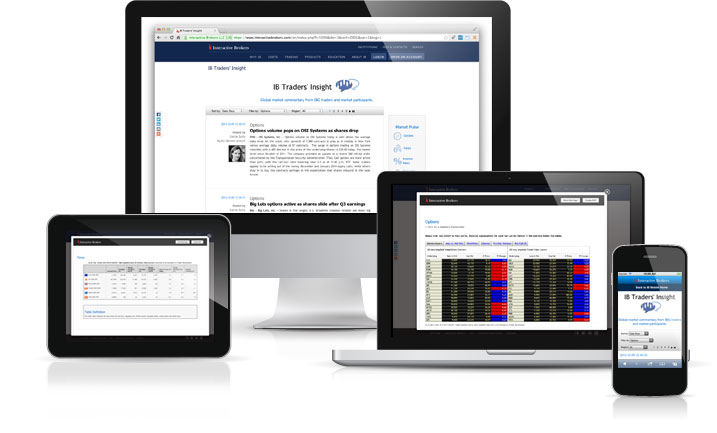 Administrators, Auditors & Tax Preparers, Market Your Services
Our new Administrator accounts are ideal for third-party administrators, auditors, accountants and tax preparers or outside legal counsel who provide services to Financial Advisors, Hedge Funds and Proprietary Trading Groups. Once they are linked to existing IB accounts, Administrators can log in once to perform services for multiple accounts.
For more information and to open an account, visit the
Administrators

page on our web site.

Capital Introduction Program Article Upload
Participants in our Hedge Fund Capital Introduction Program can write and upload text-based articles to be stored with their fund information, and eligible investors can read those articles at the Hedge Fund Investor Site. Both the Hedge Fund Capital Introduction Program and Hedge Fund Investor Site are available to eligible customers through Account Management.

Technology Updates
The list below highlights some of our biggest changes over the past months. Please visit the Documentation section of IB's
Traders' University

for a comprehensive list of all technology release updates.
TWS
Mosaic/TWS Workspaces Accessible as Tabs on Same Window
The Mosaic workspace and classic TWS layout have been integrated into a combined, tab-based frame that lets you easily toggle between the interfaces with a single click. This new design makes it even easier to move between the classic layout and the more refined Mosaic workspace.
High Precision FX Quotes
We now offer high-precision Forex quotes to 1/10 of a pip for ticker rows, charts, deep book and time and sales. Note that this is for quoted prices only and does not affect the order routing.
IB Risk Navigator: Enhancements and Updates
Plot Data by Underlying Report and Plot Slicers- Select this new report, Plot Data by Underlying, to view the values of the selected base curve for the new symmetric slicers that have been added to the P&L Plot. With this you can display the effects of change in underlying price on the portfolio value or value change depending on the curve selection you choose in the Plot drop-down of the Report Selector. By default the slicers are spaced at +/- 3%, 6%, 9%, 12% and 15%. Use the report to see all slicer values in the report matrix at the portfolio level and for all underlyings at the same time. To change the domain value of the slicers, drag them directly in the plot, or use the Metrics menu to select Plot data columns and then Settings.
Probability Lab Enhancements
The Strategy Scanner is now more streamlined and configurable; we have added the ability to incorporate existing positions in Probability Lab calculations and roll existing positions; you can now specify option exchange in strategies.
Pop Up Trade Notifications
You can now instruct TWS to notify you when an order fills using a subtle, transparent notification pop up in the bottom right corner of your screen. This notice displays on top of your open desktop applications and is visible for ten seconds, but it doesn't take focus away from your current task. The feature is enabled by default. To modify notification settings, go to the General section of Global Configuration and use the Show Trade notifications drop down box.
Trading via Mosaic Now Supported for Advisors
Advisors who clear through IB now have full trading and share allocation capabilities in the Mosaic workspace.
To read more about the above enhancements and to see all of the other TWS updates including, Options Rollover enhancements, Portfolio Page grouping, StreetInsider Top News, Collars Added to ComboTrader and Margin Impact on Combos, see the
TWS Release Notes

.
mobileTWS
The mobileTWS platform for Android and iOS phone and tablet saw significant updates in the past few months with such features as:
Launch Account Management
You can now launch Account Management from within mobileTWS without having to log in separately. Note that this feature is not available in Read-Only mode, as it requires login verification.
View Frozen Market Data
A static snapshot of the last known quote (bid, ask, and sizes) will be displayed when markets are closed. Note that static data is displayed only for tickers that have a market data subscription.
Structured Products
You can now add structured products to a Watchlist by entering the ISIN. You can locate a product's ISIN using the Contract Search accessed from the Help & Contacts menu along the top of the IB web site.
Configure Watchlist Columns
You can now configure columns in the Watchlists, Portfolio view, Orders view and Trades view by clicking the configuration icon (three vertical lines) next to the ticker symbol header. You can add, remove and rearrange columns. Swipe left or right to navigate within the page and see additional columns.
Slide-Out Menus
The top level main menu has been replaced by a more sophisticated and easier to use slide-out menu. To view the slide-out menu, tap the list icon (three horizontal lines) to the left of the page title.
To see more details about these and all of our mobileTWS enhancements, see the mobileTWS for iOS and mobileTWS for Android
Release Notes

.
Account Management
Over the past few months, we've added several functional and ease-of-use enhancements to Account Management for our individual and institution customers. These include enhanced client account views, client fee templates, position eligibility and uploadable positions for position transfers, a new Traders' Marketplace menu, and much more.
To read about all of our Account Management updates, see the
Account Management Release Notes

.
Tax Optimizer
We've made it easier to apply allocations when manually matching specific lots.
Mutual Funds are now supported when changing the tax lot-matching method for specific symbols, running what-if scenarios or manually matching specific lots.

New Products
Products
Norwegian Stocks on Nasdaq OMX Nordic exchange (OMXNO)
European open-end funds listed on Euronext
Expanded US Mutual Fund offerings include:

Kellner Funds
M.D. Sass Funds
Thornburg Funds

ATX Five Futures on Eurex
Asian Futures Contracts on the Singapore Exchange (SGX)

SGX MSCI Thailand Index Futures (available to both non-US and US customers)
SGX MSCI India Index Futures (available to both non-US and US customers)
SGX FX Futures
Pricing
Support for the Cost Plus pricing structure for European stock options and UK stocks
Exchanges
IB's new institutional trading venue, BONDLARGE, with liquidity provided by Credit Suisse
JapanNext Japanese stock exchange
Lynx Canadian stock exchange
The Order Machine - Multilateral Trading Facilities (TOM MTF) Netherlands derivatives exchange
Direct access routing to IEX (see lead story above)
To keep up-to-date on all of our recent product and exchange offerings, visit the
New Products

page on the IB web site.
Best Online Broker 2014 according to Barron's online broker review on March 17, 2014, When All Screens Lead to the Bull.
[2] The Mutual Fund Replicator provides an illustration of funds with a very high correlation of daily returns and does not project the performance of a specific fund or strategy. The comparison is not intended as a recommendation and information generated does not guarantee or predict the likelihood of the investment results. Past performance is not indicative of future results.
No offer or solicitation to buy or sell securities or investment products of any kind, and no recommendation or advice is made, given or in any manner endorsed by Interactive Brokers LLC ("Interactive Brokers") or any of its affiliates.